Uniphar Logisitics names QA veteran, Erin Driggers, the Head of Quality
October, 18 2023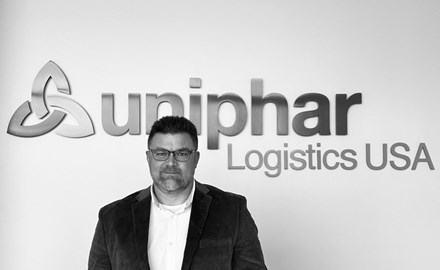 Erin Driggers, a QA veteran with over 20 years in the Healthcare Industry, has been named the Head of Quality of Uniphar Logistics.  Working as a QMS expert for the past 10+ years, Erin has been involved in QMS management and regulatory activities across the globe.   
Erin is excited to bring this expertise to the brand-new, third-party logistics facility designed to support the Medical Device and Life Science Industries in an ISO 13485 certified space located just outside of Raleigh, North Carolina's Research Triangle Park (RTP), that is home to more than 500 Pharma, Biotech, and medical device manufacturers.  He will design and certify the quality systems at Uniphar Logistics to be able to serve a wide variety of healthcare customers throughout the US, as well as the larger Uniphar Group.  
Erin commented, "I am looking forward to leveraging the larger support system of Uniphar Group to establish a state-of-the-art quality management system at Uniphar Logistics that is standardized and scalable as we continue to grow Uniphar Logistics' presence across the country.  Every customer and regulator that interacts with us will see our commitment to quality and mastery over our processes"
About Uniphar Logistics: We are part of the Uniphar Group, a €2.1 billion global life science and pharmaceutical distribution company that has established a pharma-grade 3PL warehouse facility in Raleigh, North Carolina. Our East Coast Hub will serve Uniphar's global medical and life science clients and North American manufacturers, reaching 70% of the population within two days by ground. The facility offers temperature-controlled storage, including cold chain capabilities, and will provide first-class warehousing, logistics, and support services for the life science industry. 
Facility Highlights: 
Temperature Controlled • ISO 13485 Certified • Service & Repair • 24/7 Temperature Monitoring • Kitting • Returns and Reverse Logistics Management • Value-Added Services (VAS) • Re-Labeling • Customer Service • Web Order Entry • Advanced Inventory Management • eAdvanced Shipping Notice • EDI/API Integration • 36 ft ceilings • Back-up generator
Join us as we embark on this exciting journey and redefine operational excellence! 
Press Contact: Peyton Kelly
pkelly@unipharlogistics.com