Uniphar Group Appoints Rick Hughes as Managing Director of Uniphar Logistics
June, 29 2023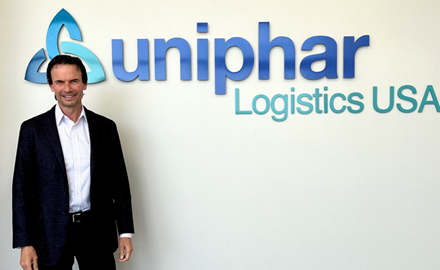 Rick Hughes, an industry veteran with over 28 years in the MedTech business, has been named the Managing Director of Uniphar Logistics. Working as a consultant for the past 3 years with the Uniphar Group, Rick identified areas in the supply chain that could be improved for American MedTech companies, including global 3PL solutions, delivering real-time inventory management, IT solutions and QMS reliability from multiple locations, providing sustainable services and real-time data for medical device manufacturers.
Rick is excited to announce in June 2023 the opening of a brand-new third-party logistics facility designed to support the Medical Device and Life Science Industries starting with 65,000 square feet of temperature-controlled, ISO 13485 certified space. The location is just outside of Raleigh North Carolina's Research Triangle Park (RTP) which is home to more than 500 Pharma, Biotech, and medical device manufacturers. The neighboring 75,000 square feet are currently under consideration for expansion to serve the Uniphar Group business.
North Carolina is recognized as a leader in higher education that supports a steadily expanding force of Scientists, Engineers, and Educators, all emerging from the leading three, Tier 1 Research universities: Duke, UNC Chapel Hill, and NC State University. This Fuels a pipeline of skilled and trained workforce designed to support the growing life science cluster in RTP and as Rick says, "our pool of talent in this area will enable us to provide a level of service that consistently exceeds our customers' expectations".
These factors make this facility a great location to support manufacturers looking for a shared infrastructure for 3PL services and distributing a variety of products, ranging from medical devices with technical service and repair in our GMP rooms to the highly regulated industry of pharmaceuticals. Brian O'Shaughnessy, Commercial Lead over the Product Access division of Uniphar commented, "This facility will allow Uniphar to extend the current services we champion in our current European platforms to open market access for manufacturers with a hybrid model of 3Pl and customized sales channels for a global supply chain solutions, sales, distribution, and marketing strategies."
About Uniphar Logistics: We are part of the Uniphar Group, a €2.1 billion global life science and pharmaceutical distribution company that has established a state-of-the-art pharma-grade 3PL warehouse facility in Raleigh, North Carolina. Our brand-new East Coast Hub will serve Uniphar's global medical and life science clients and North American manufacturers, reaching 70% of the population within two days by ground. The facility offers temperature-controlled storage, including cold chain capabilities, and will provide first-class warehousing, logistics, and support services for the life science industry.
Facility Highlights:
Temperature Controlled
ISO 13485 Certified
Service & Repair
24/7 Temperature Monitoring
Kitting • Returns and Reverse Logistics Management
Value-Added Services (VAS)
Re-Labeling
Customer Service
Web Order Entry
Advanced Inventory Management
eAdvanced Shipping Notice
EDI/API Integration
36 ft ceilings
Back-up generator
Join us as we embark on this exciting journey and redefine operational excellence!
Press Contact: Peyton Kelly
pkelly@unipharlogistics.com